Klingon Pop Warrior
Jen Usellis is a Chicago native with a BFA in theater and a passion for acting, singing, and Star Trek! We had fun making these Pop Warrior custom stickers and 1.25" round custom Made buttons for Jen's most recent project. Jen's extensive resume consists of over 70 theatrical productions and her most recent project has blown up on the internet. Jen, aka, the Klingon Pop Warrior, covers pop songs in one of Star Trek's official languages, Klingon. With over 175k views on her video "HIchop", this is only the beginning for the Klingon queen! The youtube video featured below is a Klingon Karaoke video (with translations) to the tune of Sixpence None The Richer's popular 90's song "Kiss Me". "HIchop" translates to "bite me", staying true to the Klingon society's culture of war and combat.

Aside from following the tunes of popular songs, Jen puts a creative spin on the lyrics and translations. Her Youtube channel, "The Klingon Pop Warrior Jenbom", features other popular songs like "My Heart Will Go On" and "Somewhere Over The Rainbow".
I got the chance to ask Jen a few questions about how she became interested in Klingon, her future plans, and her upcoming EP.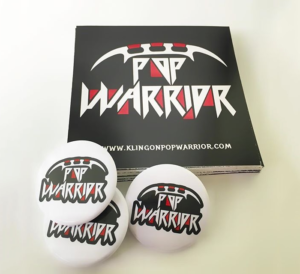 When did you first begin to study and speak Klingon?
In 2010, I got cast in the Chicago debut of a play called A Klingon Christmas Carol, which is the holiday Dickens story everyone knows & loves but entirely in Klingon and set in a sort of Star Trek universe. We got language lessons and pronunciation lessons and that sort of started the love affair. I wasn't even much into Star Trek going into that show! 7 years later, I'm a big Trek nerd and now have the Klingon Pop Warrior project. I was basically an actor & singer who got a super crazy acting gig and then embraced everything about it. I'm still nowhere near fluent in the language and approach the music much like singing opera. However, I have been making a much bigger effort to learn the language over the last year and can carry on pretty rudimentary conversations. I'm actually studying to take the first level proficiency test this summer and hoping to eventually translate my own songs rather than having to rely exclusively on outside translators.
Do you have any plans to tour and perform live or write your own songs?
The heart of the Klingon Pop Warrior project is a really goofball "covers" band not originals. "Pop Warrior" evolved out of the concept of the '90's pop princesses. It's fun to perform things that are already recognizable to people. I think with something as wacky as Klingon it makes it much more approachable to a wider audience. Performances usually include explanations on how you can tell they were "stolen" from the Klingons and I try to pick songs that lend themselves to the warrior concept in some way (though some I just do for laughs).
I've been performing at conventions and events for a couple years now but mostly in the Chicago area where I'm from. Convention "filk" performances are a different beast than what most musicians are used to. They're generally booked a year in advance so you have to kind of do what you can until they get to know you and start inviting you out. This isn't exactly the kind of act that is getting me booked in the clubs around town but there's definitely a rich & lively community of nerd rock bands out there playing cons & events."
What are some of the songs on your upcoming album?
This new album is a 5 song EP and we're leaning a little more towards rock this time and throwing in an old ballad & one more recent pop song. I'm doing "Mother" by Danzig, "Don't Stop Believin'" by Journey, "We're Not Gonna Take It" by Twisted Sister, "Die Young" by Ke$ha, and "Somewhere Over The Rainbow." We're upping the game big time on this recording, too. Still keeping it in the acoustic vibe of the first one but with a lot more instrumentation – violin, cello, drums, bass, guitar…. "Don't Stop Believin'" is going to be amazing.
Jen is currently performing around Chicago at conventions. She is hoping make her way over to the East coast within the next two years. You can show the Pop Warrior some love and appreciation on her Kickstarter or by purchasing her first EP, Warrior Woman, available on Amazon, iTunes, GooglePlay, and CDBaby! Warrior Woman features the songs "Baby, One More Time" (Brittney Spears), "Let It Go" (featured in the Disney movie Frozen), and "Love is a Battlefield" (Pat Benatar), to name a few. Jen is set to release her second EP, "bommey qu'" early this March.