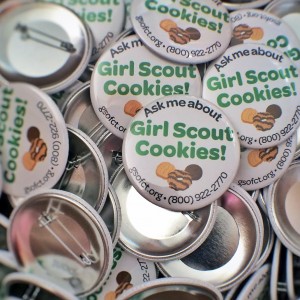 Hot off the presses, 2.25″ Round pin back buttons for our local Girl Scouts of Connecticut.
The Girl Scout cookie tradition began in the early 1900's.  Scouts, with their mothers' supervision, would bake and sell cookies to fund troop activities.  It wasn't until the 1930's that the Girl Scouts began to commercially produce their cookies.  Sale of the cookies was suspended during World War II when sugar, flour, and butter were in short supply.  In the 1950's and 60's  the Scouts expanded their product offering and expanded sales.  The popularity of Girl Scout cookies has only increased over time.
In keeping with the times, the Girl Scouts are now rolling out a Digital Cookie Program.  If you know a Girl Scout, ask her about the program, if you don't contact your local troop for more information.
For more information about how you can leverage buttons for your next fundraiser, give us a call toll-free at 1-800-564-2925, or contact us today!